Roland Burton Hut
Summer access: rarely visited
Winter access: 6 hrs

Location: 49.92942, -122.99321
Hut fee: $5 per person per night

---
About Roland Burton Hut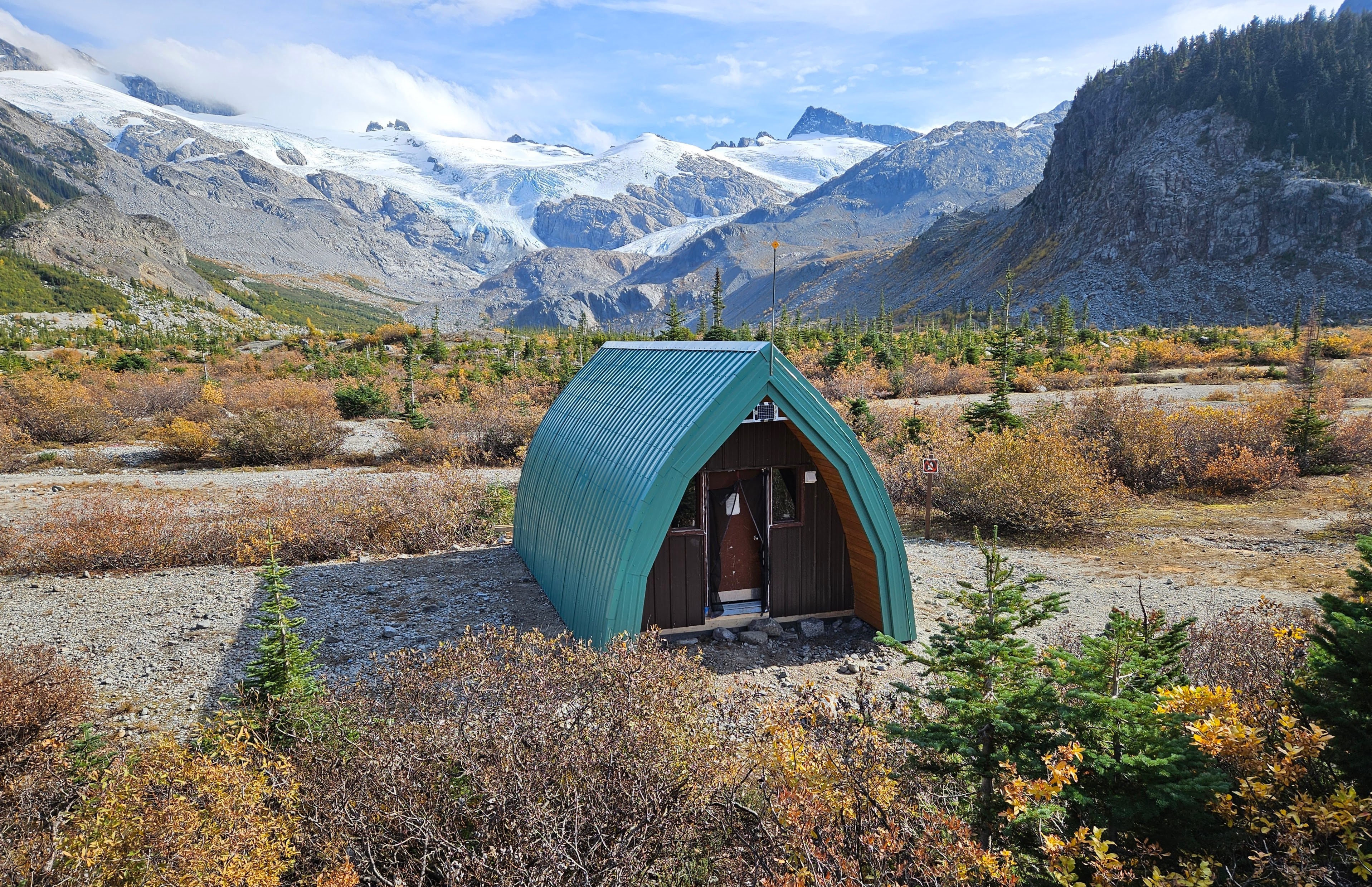 About Roland Burton Hut
This small hut on the eastern shore of Garibaldi Lake, in Sphinx Bay, sleeps about 10 people comfortably (built 1969). Since it is in Garibaldi Provincial Park, overnight visitors must purchase a wilderness permit. The hut is open to non-commercial users only.

The peaks and glaciers surrounding Sphinx Bay offer excellent skiing and mountaineering. The Garibaldi Névé traverse also sometimes includes a night at the hut.

The hut is not heated. It has an outhouse and a solar-powered light, and drinking water can be taken from the creek or lake year-round. For more information, see the VOC Wiki.
How to get there
Garibaldi Lake is reliably frozen at least from February through April, and this provides the main access to the hut. Park at the Rubble Creek trailhead and follow the trail to the lake. From the outflow, cross the lake south-eastwards (bearing 111°). Whiteout conditions and high winds can complicate the crossing, so bring a GPS or at least a compass. The hut is not visible from the lake: it can be found 70 m from the lakeshore behind a small moraine, just north of a large creek. The total distance is 13.5 km, with 1100 m elevation gain.
Last updated: April 21, 2021
---
Conditions reports
New report
Outhouse nearly full
&nbsp
Cassandra Elphinstone&nbsp
Parking lot is about half full. Trail to the lake is busy even mid-week. Lake still very frozen. The outhouse door does not close fully letting in some snow and the pit is nearly full. The catalytic heater is no longer at the hut. The solar lighting is working well. The hut door is a bit loose and lets in snow during a storm.
April 1, 2021