Brian Waddington Hut
Summer access: 3 hrs
Winter access: 6 hrs

Location: 50.63059, -122.67985
Hut fee: $10 per person per night

---
About Brian Waddington Hut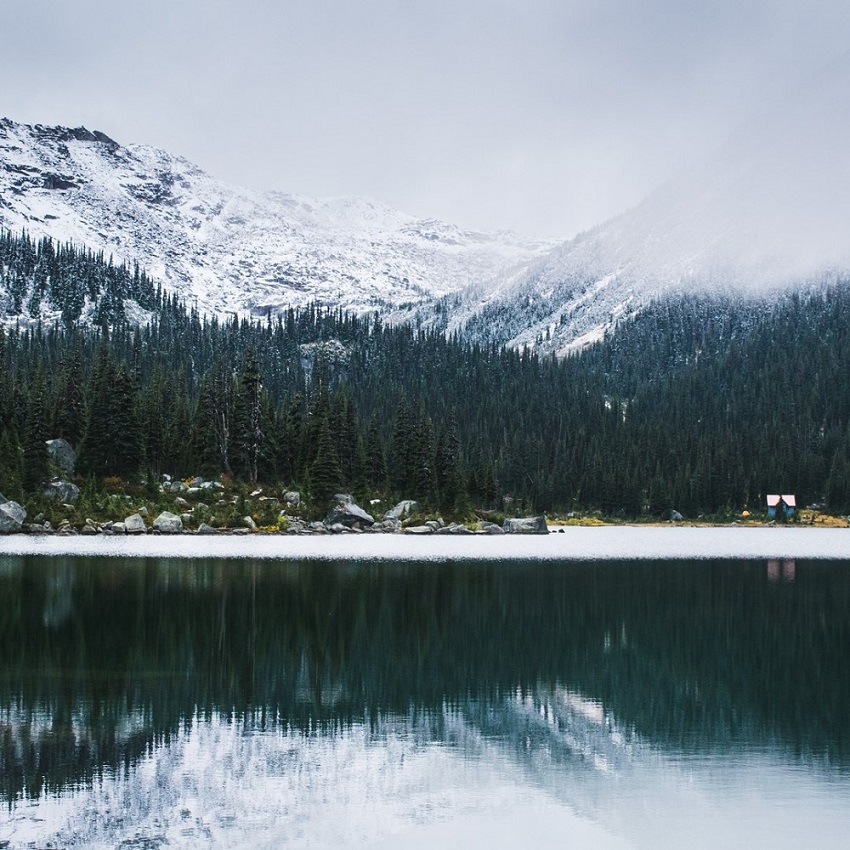 About Brian Waddington Hut
Built in 1998, this spacious hut sits in a subalpine basin at 1715 m beside Long Lake. It sleeps more than 25 people. The hut is open to non-motorized, non-commercial users.

Backcountry skiers visit the hut for dry snow and challenging runs. In summer, Mt. Gandalf, Mt. Aragorn, and Mt. Shadowfax are fun scrambling destinations. The VOC discourages visits to the area between August 15th and October 15th, when it is sensitive habitat for grizzly bears.

The hut has a wood stove (winter use only) and an outhouse. Firewood should be used sparingly, because it is carried in by volunteers. A creek south of the hut is open year-round for drinking water. For more information, see the VOC Wiki.
How to get there
Blackwater Creek FSR is ploughed in winter up to the start of Phelix Creek FSR near km 13. This is the winter parking lot. In summer, drive 4.4 km up Phelix Creek FSR to the barricades at the second bridge and park (2WD accessible; keep left at the fork before the bridge). Walk up the road through a few cutblocks until the road becomes a trail and climbs through mature forest to Long Lake. If the lake is not frozen, walk around the north side to the hut. The total distance is 5.5 km and 600 m elevation gain (9.9 km and 1090 m in winter). In winter and especially in spring, there is overhead hazard along Phelix Creek FSR from large avalanche paths.
Last updated: April 21, 2021
---
Conditions reports
New report
Grizzly bear voluntary closure
&nbsp
Jacob Grossbard&nbsp
Trips to Brian Waddington Hut are currently discouraged because the hut is in sensitive bear habitat and may have high bear activity at this time of year. The voluntary closure is in place annually between August 15th and October 15th. See https://www.ubc-voc.com/wiki/Brian_Waddington_Hut#Bear_Activity for more details.
Sept. 10, 2021
Snow Free
&nbsp
Sam Viavant&nbsp
The trail is good! There is no snow, and creeks are a bit higher than usual, but otherwise, it looks like normal summer conditions. There is some snow on north-facing slopes, but otherwise, things are pretty bare. If you want to avoid snow and still hike all the peaks, you can do it.

As for driving, my Toyota Sienna (Two-Wheel Drive) made it up the logging road fine.
July 4, 2021
Solar lighting installed
&nbsp
Cassandra Elphinstone&nbsp
Fixed up the landslide. Logging company may start logging later this summer. Alder needs to be cut on the first part of the trail after the burnt truck. Snow on the trail halfway to the hut but snowshoes unnecessary. Took ~3-4 hours up and ~2 hours down. Outhouse is getting full. Firewood supply is nearly gone. Marmots have built a new hole under the hut.
June 13, 2021
Slide has slid at km 0.3
&nbsp
Roland Burton&nbsp
Hut is in good shape. Warm, not mouldy. Firewood all gone. 2m snow up there, crusty. Many dead appliances, stoves, Coleman lamps, BBQ's, also about five full propane bottles, 16 oz size.
I left a couple of Clif bars up there and expect to return mid-June to install the solar lighting.
We did slowshoes; the snow was a bit crusty for skiing.
April 21, 2021