Julian Harrison Hut
Summer access: 8 hrs
Winter access: rarely visited

Location: 50.52061, -123.43187
Hut fee: $10 per person per night

---
About Julian Harrison Hut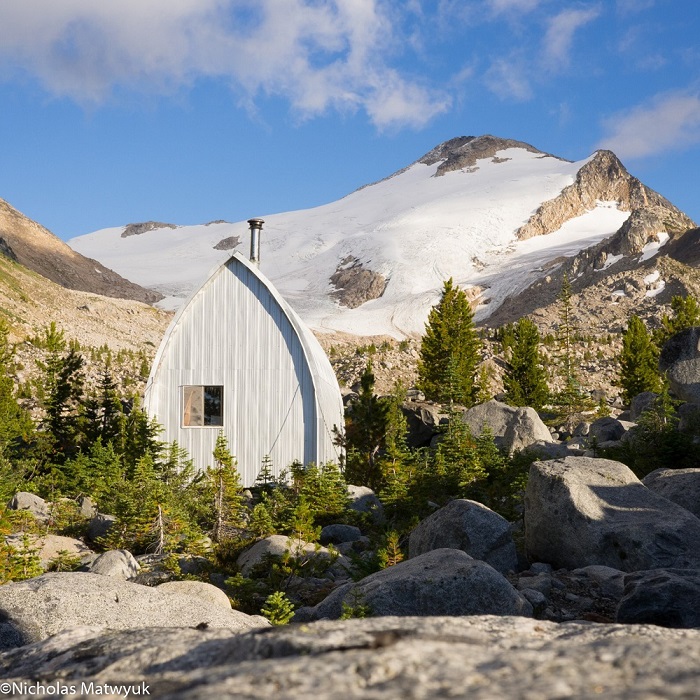 About Julian Harrison Hut
Located near the northern edge of the Pemberton Icefield, this hut sits on a remote glacial outwash plain at 1725 m (built 1983). It sleeps around 15 people, and it is open to non-motorized, non-commercial users.

Overseer Mountain, Frozen Boot, and other peaks on the Pemberton Icefield are popular scrambling and mountaineering destinations from the hut. Mt. Meager, across the drainage to the north of the hut, is highly unstable and recently released one of the largest landslides in Canadian history. The area also has a large bear population.

The hut has a wood stove (winter use only) and an outhouse. Firewood should be used sparingly. For more information, see the VOC Wiki.
How to get there
The access to this hut is long, and it can be confusing to navigate the road network, which is sometimes altered by intensive logging. As of spring 2021, the trailhead is accessed from Lillooet S FSR, which is closed to motor vehicles at km 2 from April 1 to June 15 and from September 16 to November 30 for grizzly bear conservation under the Wildlife Act. The road is also closed when high temperatures or heavy rainfall indicate high landslide risk. During winter, the road is generally covered in snow.

Drive to the gate at km 23 and park. Do not block the road. Continue on foot or by bike along the Meager South Connector and use the GPS track (below) combined with satellite imagery or a recent map to navigate the logging road network toward the end of the 6C spur road at 50.5545, -123.4613. Watch out for logging traffic and operations, and beware of unstable landslide debris above the road (or in winter, avalanches). To rejoin the trail, follow the marked route toward 50.5527, -123.4562. The trail crosses the Barr Creek bridge and climbs through the forest to the hut. The total distance is 18.8 km and 1730 m elevation gain from the cars.

2021 Harrison GPS track
Last updated: June 5, 2021
---
Conditions reports
New report
Workhike
&nbsp
Anya Boardman&nbsp
Group of 22 VOCer's visited for a workhike on our hut maintenance permit. We camped at the 2km gate Friday night, and then stayed at the hut on Saturday night. It was snowing at the bottom of the trail, and snowshoes were useful for the last ~2km.
-built trail bed along the connector trail from the new logging road spur to the old trail
-cleared the larger fallen trees using the chainsaw
-replaced the doorknob at the hut
-cut up the old bridge and hauled it out of the creek. There are two large pieces that are too heavy to carry, and a pile of smaller pieces by the old bridge site. **future groups should consider carrying down ~2-4 pieces per person if possible**
-outhouse was fine
-road was in pretty good shape (some drainage ruts in the last ~1 km on the logging road could be a problem for some cars). Some very large rocks on the side of the trail were evidence of unstable slope above.
-saw one group of bike packers on the logging road, not sure where they were headed
Oct. 23, 2021
Marked the route from the 6C spur to the trail
&nbsp
Vincent Hanlon&nbsp
During another VOC workhike, we marked the route from the end of the 6C spur road to the trail with orange blazes, cleared deadfall along the trail itself, and did some basic maintenance at the hut. Lillooet S FSR was in good condition to the 23 km gate. Beyond that, the Meager S Connector had a bit of rockfall through the landslide but was generally in good condition. Probably not very bike-able with skinny tires though. It's easy walking from the 6C spur to the trail, and we hit continuous snow around the Barr Creek bridge. There's a small amount of firewood at the hut. The outhouse is getting full and a new hole will need to be dug soon. It took us 3 hrs to hike down from the hut to the 6C spur.
May 30, 2021
Christmas
&nbsp
Dave Williams&nbsp
Helicopter in. Most of the firewood cut in October is still there. Fresh snowmobile tracks near the hut. We could find no shutters to cover the windows - perhaps these are under the cabin - the rear window will be well and truly buried within the next week or two. The front door though heavy shutting does not latch properly. There is the possibility that a strong gust of wind could push the door open enough to be at least partially open all winter. No garbage that appears to need removing. The white gas two burner 2004 Coleman stove is a bit of a liability - I have years of experience operating these and this one is particularly difficult. There is also a double burner propane stove but we never tried using this.
Dec. 25, 2020
October Workhike
&nbsp
Cassandra Elphinstone&nbsp
After years of negotiations, we were able to get a key to the 2km and 23km gates for two workhikes a year. We parked the car at the end of a logging road spur called 6C (past the Lillooet South FSR and the Meager South connector permit road) and flagged a new route up to the trail that avoids having to cross Pika Creek on foot. Part 2 of the old trail (from the end of the clearcuts to the hut) is clear of all but two fallen trees. We did not explore part 1 of the trail (from the old trailhead to the clearcuts). Replaced the logbook, cut firewood, and cleared trail. About a foot of snow at the hut. The outhouse is looking somewhat full.
Oct. 17, 2020