Brew Hut
Summer access: 6 hrs
Winter access: 8 hrs

Location: 50.04002, -123.19125
Hut fee: $10 per person per night

---
About Brew Hut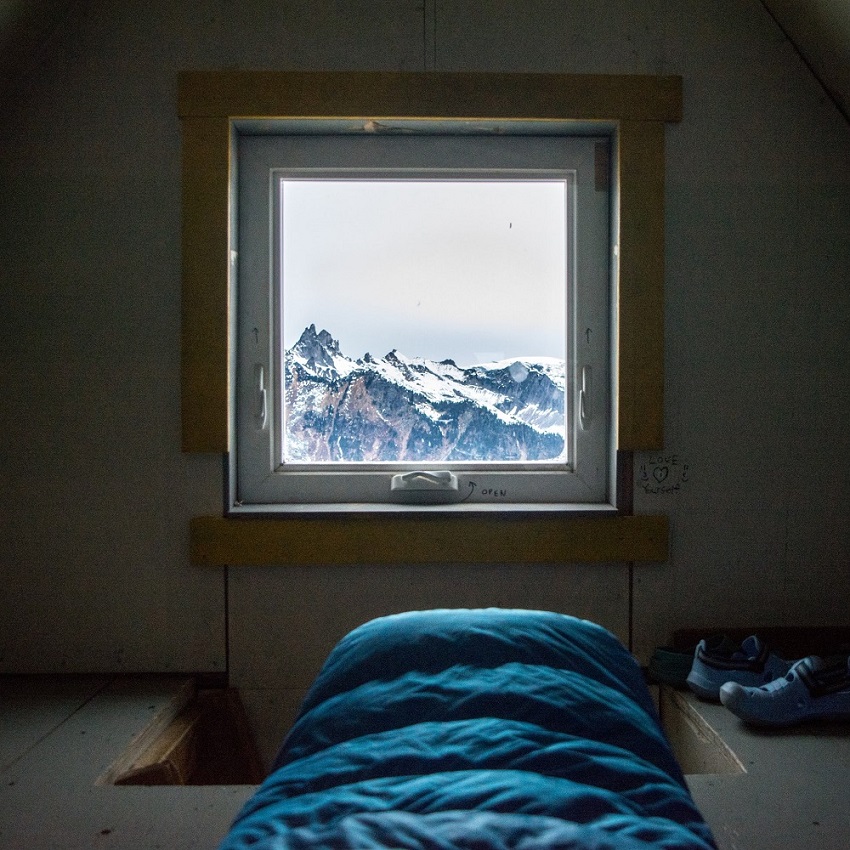 About Brew Hut
This hut was built in 2005 and sits at 1686 m on an exposed alpine ridge just south of Mt. Brew. It sleeps about 12 people comfortably, but it has fit as many as 20. The hut is open to non-motorized, non-commercial users.

The Brew area receives huge amounts of snow in winter and is a popular destination for backcountry skiing. In summer, hikers visit the heather meadows around Brew Lake, swim in the tarns, and walk up nearby Mt. Brew.

The hut has a wood stove (winter use only), a solar-powered light, and an outhouse. Firewood should be used sparingly, because it is carried in by volunteers. There are small tarns west of the hut for drinking water (no swimming!), although in winter it is sometimes necessary to melt snow. For more information, see the VOC Wiki.
How to get there
Since November 2020, the standard Roe Creek access to Brew Hut has required fording Roe Creek. This is dangerous unless water levels are low. Beyond Roe Creek, the logging road has also been very aggressively deactivated, making travel difficult on skis (summer hiking is fine, though). In winter, this route is 13.2 km and 1300 m elevation gain. In summer, it is 9.0 km and 990 m elevation. The last section of trail is in open subalpine terrain, is unmarked, and is covered by snow well into the summer. Whiteout conditions are common in every season, and you should have a GPS or be proficient navigating with a map and compass to reach the hut. In winter and spring, there are a few short sections of avalanche terrain.

To use the Roe Creek access, turn onto Chance Creek FSR from Hwy 99 (1.8 km south of the Rubble Creek turnoff). The road is rough but passable for 2WD vehicles. At km 1.6 there is a ploughed parking lot for winter use, shared with snowmobilers and Powder Mtn Catskiing. Keep right at major junctions. In summer, park where the road ends at Roe Creek (km 5.9). Cross the creek and continue up the road, keeping right at major junctions, until the trail leaves the road in an old cutblock (50.00728, -123.18716). Walk through the forest to Brew Lake, then follow gentle slopes northwest then north to a col. The hut is just east of the col.

While the Roe Creek bridge is out, it may be easiest to use the trail from Brew Creek FSR to Brew Lake in summer (not maintained by the VOC), which begins near 50.0283, -123.1475 and is described elsewhere.
Last updated: Nov. 9, 2021
---
Conditions reports
New report
Trail covered in ~2.5 ft of snow
&nbsp
Heather Hughes-Adams&nbsp
On the way in, the road was driveable to the river crossing. Crossing the river was just under hip height as of November 7th. Cold and fast moving, but with careful footing crossable ~50 m upstream of the road . Option to use the tyrolean ~50 m downstream, or just use it to send your bags across. Trail was dusted in snow on the way up which made travel across the talus fields slow. Post-holing began just after the last talus field (~3 - 4 ft of snow), skinneable from there. Creeks are still open but mostly crossable if you pick the right location. The group prior to us left the outhouse door open and snow covered the TP ash burning bin - as such, one of our group members didn't notice it and put TP down the toilet - we apologize for this. Otherwise the hut is in good condition. While it was whiteout and difficult to see the surroundings, there is a lot of snow in the alpine. Terrain is likely snow ski-able around the hut. ~2 ft of snow overnight make skiing down to the end possible.
Nov. 7, 2021
Winter is here!
&nbsp
Andrea K.&nbsp
We came up from the Roe Creek side. As noted before, the bridge was removed, the creek stream was quite strong but still crossable - water about a knee height. The part on the FSR was easy. Snow started around the elevation of 1400m. There were snowshoe prints up to the lake. Between the lake and the hut, there was just untouched snow. Up there be ready for the full winter season. We kind of relied on a packed trail and had just one pair of snowshoes for 3 people (the other two had spikes which are useful from lower slippery frozen parts). We ended up making snowshoes from tree branches and ropes. Snowshoes are must-have. We stayed there with a VOC group who replaced the door handle and fixed the door, all good now. The woodshed got unlocked for the winter season. The next morning was magical. It's beautiful up there!
Oct. 30, 2021
Black flies!
&nbsp
Jeff Mottershead&nbsp
Background: Brew used to be the easy VOC hut to access. The logging company that owned the bridge over Roe Creek confiscated the bridge because they wanted to use it elsewhere, which they're entitled to, but it's unfortunate for us.

Someone set up a cable crossing, and cleared a trail to it on the car side, which is very much appreciated. It's still a work in progress, though, as if you can't dunk and only have one biner, you're going to have a bit of a time clipping into the pulley, and there's no trail back to the road on the far side. It's short, but it's also devil's clubby.

https://photos.app.goo.gl/VkWudQVHivuvaERh8

Walking the road is easy and snow free. Snow starts in the trees and is continuous and deep in the alpine.

https://photos.app.goo.gl/TNMyHAsYDBzFQCNE7

Most people in BC call any fly that bites and is black a black fly. Legit black flies anesthetize and leave you bleeding, and later very itchy. There was one cluster of real black flies on the road.
June 20, 2021
Door handle missing
&nbsp
Cassandra Elphinstone&nbsp
We came up from the Whistler RV Park. Contact the RV site about parking otherwise they may tow your car. This route is not recommended in poor avalanche conditions. The hut door handle is missing. Door could blow open on a windy day. The new outhouse door was open and entirely filled with snow. We dug it out. The old outhouse and woodshed are mostly buried in snow. There is still some wood in the hut. Solar lighting works well. We skied out to the Roe Creek FSR exploring a direct route from the Roe Creek trailhead to the site of the removed bridge. Skiing in the clearcuts is not recommended due to numerous tree wells. Following the deactivated road is difficult with the new (up to 1.5m tall) waterbars.
March 14, 2021